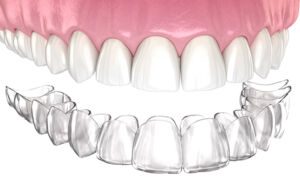 Do you have teeth that are crooked, overcrowded, or misaligned? If so, you may want to consider orthodontic treatment. Thanks to cutting-edge technologies like Invisalign®, achieving a straight, aesthetically pleasing smile is both easy and hassle-free, plus there's no metal involved. At Brite Smile Dental, with two locations in San Diego, including the Sorrento Valley area, the team regularly prescribes Invisalign oral aligners for men, women, and teens. To make an appointment, call or book online today.
What is Invisalign®?
Invisalign is a state-of-the-art orthodontic treatment that uses a series of clear, nearly invisible plastic aligners to gradually straighten your teeth. Invisalign aligners are unlike traditional braces in that there are no brackets, wires, or rubber bands involved.
In addition, Invisalign aligners are both safe and effective. They're made of a patented thermoplastic known as SmartTrack®. SmartTrack is FDA-approved and free of allergens including BPA, BPS, latex, and gluten.
What types of issues can Invisalign correct?
At Brite Smile Dental, the team regularly prescribes Invisalign oral aligners to address mild or moderate orthodontic issues, including:
Overcrowding
Crossbite
Overbite
Underbite
Spaces
The team might also recommend Invisalign treatment if you have a series of gaps or spaces between your teeth.
Am I a good candidate for Invisalign treatment?
The only way to determine if you're a good candidate for Invisalign treatment is to make an appointment with the team at Brite Smile Dental.
Following an oral exam, review of your medical history, and discussion of your goals for treatment, your dentist can make recommendations that align with your individual needs. If you have healthy teeth and gums, you're probably a good candidate for Invisalign.
After evaluating your smile, your provider develops a digital treatment plan that maps out the precise step-by-step transformation of your smile. After approving your plan, a dental laboratory manufactures your aligners.
To achieve the best results, you'll need to wear your aligners for between 20-22 hours each day. Every 1-2 weeks you change to a new set of aligners which gradually shift your teeth into place.
How long does Invisalign treatment take?
The length of Invisalign treatment depends on a variety of factors including how faithfully you wear your aligners and how severe your orthodontic issues are. However, most people see stunning results within 12-18 months. Depending on your individual situation, you may have to wear your aligners longer. Be patient and follow your dentist's instructions.
How do I clean and care for my Invisalign aligners?
Cleaning and caring for your Invisalign aligners is easy. Rinse them with cool tap water before and after eating, and gently brush them with your toothbrush and toothpaste at least once every day. For more thorough cleanings, ask the team at Brite Smile Dental about the Invisalign Cleaning System.
If you're interested in learning more about orthodontic treatment with Invisalign, call the office or click the online booking tool and request your appointment today.
Book Your Appointment Now
Make Appointment or call